Highfives to Microsoft!
It's almost 2013, and we can confidently start using CSS2 and some CSS3
December the 12th, 2012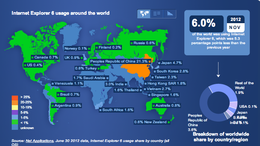 Here at Jetscram we distaste for Microsoft's terrible run of internet explorer web browsers, but today we give them a big high fives!
Microsoft has provided a great website to watch the death of one of the worst products still available to users on Windows XP and before.
We have, along with every other developed, struggle with compliance to this terrible browser. I'd say more of my development life has been spent cursing, kicking, and screaming when fixing bugs in IE6 for clients when I could be developing something positive for the client.
This doesn't mean Microsoft is off the hook. They still have ie7 and ie8 to rid of!
Also see:
Microsoft has finally got some designers working with them, you can see it come through in the new Windows 8, and with it you can see transitions. I'm excited (and crossing my fingers) that Microsoft will start pushing the internet forward in the years to come.