Jetscram Launches 2011 Site Design
More power on Zesty!
May the 28th, 2011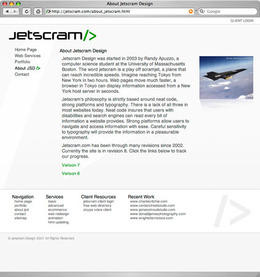 We are proud to announce the launch of the new Jetscram Website! Our goal was to simplify the information, make the design more flexible, and expand the content. This Blog is a new addition along with a more robust portfolio.
The site was last designed in August of 2009. Below is a Google cache screenshot of the the old website.
The new website is running on Zesty (Zesty Content Management System)